External Resources
Resources for research on social movements in Canada. See also the News section as well as Further Reading on this site.
Research Tools
Canadian Century Research Infrastructure (Census): The CCRI is a pan-Canadian, multi-disciplinary, and multi-institutional effort to develop a set of interrelated databases centred on data from the 1911, 1921, 1931, 1941, and 1951 Canadian censuses. The result will be a new foundation for the study of social, economic, cultural, and political change.
Canadian Committee on Labour History.
Canadian Committee on Women's History: A bibliography of publications on women's history.
Canadian Families Project: The project team is studying families in Canada and has completed a national sample of the 1901 census of Canada.
Canadian Legal Information Institute: A database of statutes, regulations, and case law in Canada.
Dictionary of Canadian Biography: A database containing biographical information on thousands of individuals who died before 1930.
Early Canadiana: A general resource for primary documents.
Gallup Polls, Carleton University.
The Globe and Mail: A searchable database for each issue of the Toronto Globe and Mail. Please visit your university or public library catalogue to access this database.
Herbert Normal Digital Archive
Historical Statistics of Canada
Legal Information Institute (United States): A rich database of statutes and case law for all levels of government in the United States.
Library and Archives Canada: Library and Archives Canada (LAC) has one of the best online collections of primary documents and exhibits on Canadian history. Some of the most prominent resources include
Primary Documents in Canadian History
Simon Fraser Editorial Cartoon Collection
Supreme Court of Canada: Decisions are available online, as well as biographical data on Supreme Court of Canada justices, past and present.
University of Toronto, Bora Laskin Law Library: This section of the law library's website provides links for research on various legal topics.
Virtual Museum of Canada: Exhibits on Canadian history, society, culture, science, and technology.
---

Further Reading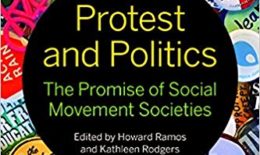 Readings lists on the topic of state funding for social movements
---

Citing Website
All information sources from statefunding.ca and the database should be acknowledged by the User and cited as follows:
–
Website:
Clément, Dominique. "page title or document title." State Funding for Social Movements. www.statefunding.ca (date accessed).
–
Database:
Dominique Clément. [year] State Funding for Social Movements Database. Retrieved from http://www.statefunding.ca
---