Outcomes
This project will impact policy-makers, activists and scholars. It will facilitate a national dialogue on the sustainability of social movements in Canada and how state policy has changed the way social movements interact with government.
1- Enhanced student training: This is a priority for our project. Graduate students will be involved in every aspect of the project: qualitative and quantitative data collection, management, and analysis; team meetings; writing articles and publishing research findings; and presenting at conferences.
2- Future Studies: Scholars can use our findings and the database to launch additional studies on a broad range of topics such as: government priorities in social policy; comparisons of private and public funding models; comparing state funding with funding by corporations and foundations; how changes in government structure and ideology affect policy; comparisons between SMOs that use state funding with those that do not; democratic accountability; neoliberal economics and the state's reasons for funding movements; changes in the welfare state and funding social services through SMOs; the rise/decline of the voluntary sector; or how funding social movements in Canada differs from other countries.
3- Dialogue: This project involves extensive interaction between Francophone and Anglophone scholars and will facilitate a dialogue on social movements, activism, and state policy across regions in Canada.
4- Connections: Our project is designed to produce networks with community and government to lay the foundation for a future partnerships initiative that incorporates scholars, activists and policy-makers .Our knowledge mobilization plan ensures that SMOs and policy-makers will participate in the production of our scholarship and use our findings to benefit their activities.
5- Public Scholarship: Policy-makers can use our findings, and the database, to enhance their institutional memory and understanding of the changing relationship between social movements and the state. This research will help enable governments to adapt their policies to better suit the needs of SMOs and citizens. Activists can use our project to learn from the experiences of a wide range of movements about what types of strategies are successful and how to secure funding. This is especially beneficial to smaller SMOs or those isolated in rural communities or that lack support networks.
---

Further Reading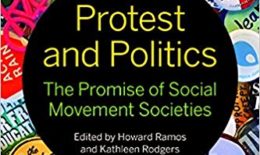 Readings lists on the topic of state funding for social movements
---

Citing Website
All information sources from statefunding.ca and the database should be acknowledged by the User and cited as follows:
–
Website:
Clément, Dominique. "page title or document title." State Funding for Social Movements. www.statefunding.ca (date accessed).
–
Database:
Dominique Clément. [year] State Funding for Social Movements Database. Retrieved from http://www.statefunding.ca
---